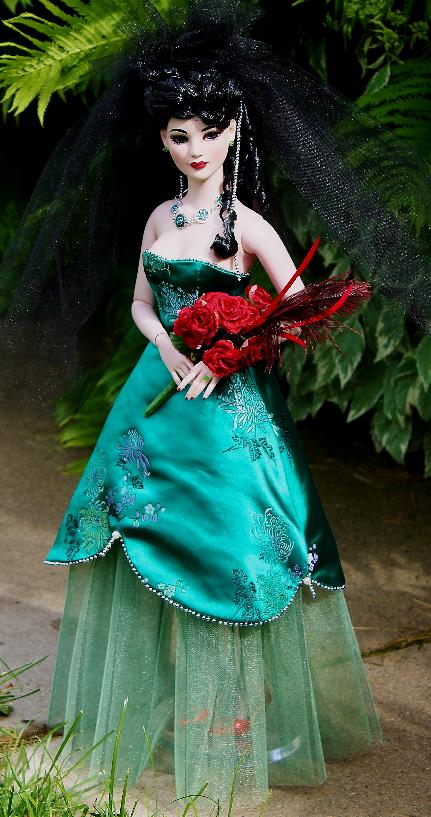 She was wary of telling anyone because she didn't want to be thought mad!
After all, her aunt and uncle had forbidden her to speak of her trip to OZ
for the very same reason.
Finally, she told her best friend who confirmed her worst fears and laughed
at her - she must be crazy.
Word got out and eventually, her friends quit inviting her to socials and no
one asked her to dances.
Auntie Em despaired of her ever meeting a nice young man to marry and
take over the farm.
Dorothy, tired of being nagged about her future prospects, decided to become
a secretary and move to the Big City.

In her dreams, she learned the name Etienne and that he was the
beloved nephew of the Witch of the West and was a witch himself.
They met when she slept and they talked of philosophy, politics, history,
science, alchemy, and the arts.
He read poems to her and they made love in the moonlight under the starry skies.
What amazing dreams these were...so real!
Dorothy was falling more deeply in love with her dream man and she longed stay in
his world forever.
Her dream world became more real to her than the real world.

That night, in the midst of the most wondorous dream yet, Dorothy asked.
Etienne told her that it was possible, but not easy. While staring into his
eyes the amazing knowledge came to her that in Oz, and in her dreams,
she too was a witch! A good witch of course, but still....a witch.
Her beloved wasn't strong enough to perform the summoning ritual on his
own even though he had been trying to for years
as he watched Dorothy through the magic of the crystal. But with Dorothy's
powers to help, their love for each other would transcend time and space
and the ceremony could work.
She knew she was going to have to leave her current life behind forever
because she would never be able to leave Oz once she returned there.
Was she willing to do that?
Yes, she decided, she was. Would her longing be enough?