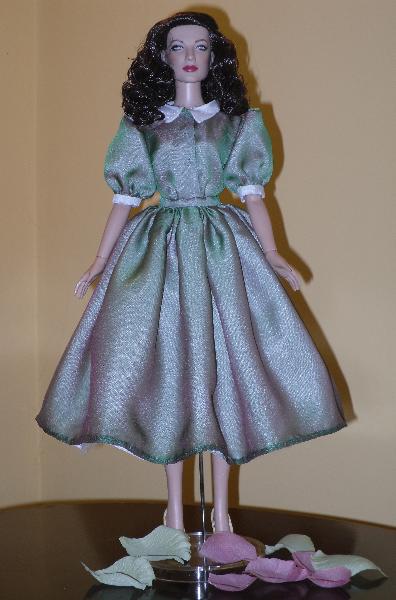 With heart pounding and with baited breath she opened her eyes hardly daring to breathe.
Oh my as her eyes focussed lay before her was the Emerald City shimmering the sunshine.
Dorothy began to walk swiftly and before long she was running along the yellow brick road
up to the large doors of the City.
Knocking Dorothy waited, just as she about to knock again a small door opened,
"What do you want" a voice yelled.
"Uh..hello, it's Dorothy, I have returned."
"Why so it is! Dorothy, come on in!".

"How is everyone? Is Tinman still here" asked Dorothy.
"Why sure he is, he will be so pleased to see you!"
"You need to know Dorothy, there have been some changes. Tinman is no longer Tinman".
"What do you mean" asked Dorothy. "Well Dorothy, Tinman was the son of the woodcutter
but, he had such a cold heart, his father in desperation sought the help of a woman who
may be of some help. She cast a spell upon him that until he was able to do unselfish deeds
and have love in within him he would be forever cold as tin at which he was transformed into
The Tinman."
"Oh my," said Dorothy then what happened?
"Well Dorothy, not long after you left the spell was lifted, it was because of you, he changed
back into his old form but, now had love in his heart and a love for everyone and everything.
He is in the Wizards old palace."

"Can you take me there?" asked Dorothy.

"I can't, I am unable to leave my post, but a horse of a different color can!"


As Dorothy approached the doors of once where the wizard resided, her heart was
beating so fast she thought it would burst, before she knew it she stood inside the
Emerald palace, walking down the long corridor she approached the wizards throne room
her heels clicking the floor as she went. Before long she stood in the doorway of the
great room, sat at the far end was the most handsome man she had ever seen.
Dorothy stood transfixed , the man looked up, stared at her, moving his gaze up and down
before settling on her feet. Suddenly a big warm smile lit up his face "Dorothy!
Dorothy you've come back". He ran towards her then scooping her up in his strong arms.
He turned his face towards hers and gently said "It's me Dorothy, Tinman no longer.
"I can't believe it" said Dorothy, "I have dreamed of seeing you for so long."

Dorothy explained that she had been told of his transformation, he in turn told her
everything that had gone on, he told her that people call him Ozman, but I will always
be your Tinman. "I love you Dorothy, always have, it was only after you left I realised."
"I have felt the same for all these years" said Dorothy.

"That is fantastic" news said Ozman. "Dorothy", said Ozman "will you honour me
and become my wife".
"Oh My yes, oh yes I will" replied Dorothy.
"Wonderful! we will marry day after tomorrow here in the throne room".
"I have nothing to wear" cried Dorothy.
"Hmm I know" said Ozman, "you need to go and see Miss Sem Stress, her shop is
just outside next to where the horse of a different color is."